Muslim Association of Greece and other groups receive menacing messages from caller boasting of racist attacks.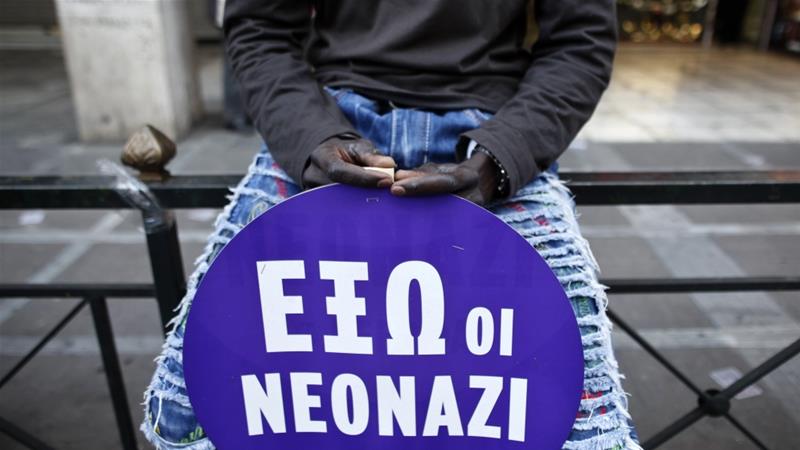 Athens, Greece – A neo-Nazi organisation has threatened the Muslim Association of Greece and pro-migrant organisations, amid an uptick in anti-immigrant violence in the Greek capital.
On Thursday, the organisation said it had received a menacing phone call from Crypteia, a far-right group that attacked the home of an Afghan child last year.
"We are the group that kills, burns, hits and tortures immigrants, mainly Muslims," the caller said, according to Anna Stamou of the Muslim Association of Greece.
The caller contacted the organisation from a blocked number and identified himself as part of Crypteia.
He boasted of the group's attack on the home of an 11-year-old Afghan refugee, identified only as Emir in Greek media, in November.
Then, masked men had attacked the boy's home after he gained national attention for being prevented from carrying a Greek flag during a school parade. They threw beer bottles and stones at the home, shattering the windows, and left a note reading: "Go back to your village. Leave."
"We reported [Thursday's phone call] to officials here, then late at night we discovered that many organisations had the same threat," Stamou told Al Jazeera, explaining that the Greek Forum for Migrants and others received similar phone calls.
Other civil society groups, which requested anonymity, confirmed that they were among those threatened.
"We are not intimidated as groups, Muslims or anti-fascists. The whole society is being targeted by these actions," Stamou added. "We don't accept threats."
Crypteia's name is an apparent reference to a group of ancient Spartans who were notorious for attacking slaves. The vigilante outfit is believed to have stemmed from the neo-fascist Golden Dawn party, which has 16 seats in the Greek parliament.
Greek police were not immediately available for comment.
There are around 200,000 Muslims in Athens, according to the Muslim Association of Greece, a civil society group advocating for indigenous Muslims, Greek converts, refugees, migrants and others.
In 2010, the Pew Research Center said there were 500,000 Muslims in the country, but this number has increased with refugees and migrants, most of whom come from Muslim-majority countries.
Tina Stavrinaki, legal officer at the Racist Violence Recording Network, said it was clear that "Muslims are the target".
"They said the same thing [to all the groups threatened]," she told Al Jazeera.
"They said they take responsibility for attacks against migrants almost everywhere."
Rising hate crimes
Racist violence is rising in Greece, targeting migrant labourers in neighbourhoods in Piraeus, a port city near Athens.
Between December 25 and January 5, the anti-racist activist group Keerfa recorded attacks on the homes of more than 30 migrant labourers, mostly Pakistanis, in Renti and Nikaia, two neighbourhoods in Piraeus.
While 48 hate crimes motivated by race, skin colour or national origin took place in Greece in 2016, 47 incidents were recorded during the first six months of last year alone, according to police statistics provided to Al Jazeera.
Although Golden Dawn has a long history of attacks on immigrants and political opponents, it has scaled back its violence in recent years.
Most of those threatened by Crypteia are witnesses in the Golden Dawn trial, Stamou said.
"This is a hate crime," she said.
The Muslim Association of Greece has had pigs' heads thrown at its office entrance in recent years and been mailed threatening letters.
"We will chop you up like chickens," one of the notes read.
"This is their routine," Stamou said. "We are not surprised."